Woods Music carries a full line of musical accessories for your convenience. You'll many common guitar and banjo parts, a comprehensive assortment of strings for all stringed instruments. You'll find straps, pegs, cables and cords, tuning pegs, bridges, and picks of all kinds among the items offered. Stop by Woods Music to peruse the great variety of items for you and your student musician.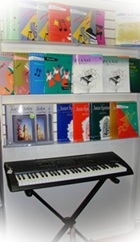 Among the many other items, Woods Music has a large selection of sheet music, song books, instructional books and many other printed materials to help you learn and play the music you've always wanted to. When your student takes lessons from Woods Music, the teaching material will be handy right in the store so you don't have to waste time searching for them. In addition, you'll find a fine selection of CDs available at a very reasonable cost.
Whatever you're looking for in the way of musical accessories, there's a good chance you'll find it at Woods Music. If not, there's no problem getting it for you right away. That's the way we do business. We build our reputation of fine service and quality merchandise to make sure that you'll keep coming back when it's time to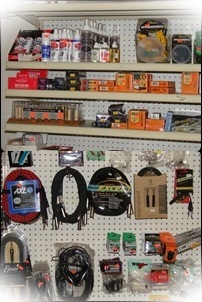 upgrade. We also want you to spread the word about the joys of playing music and encourage your family members to join in and learn to play!
The need for accessories goes with playing an instrument. If you need anything for your guitar, banjo, mandolin, amp, wind instrument, fiddle or anything call us at: (865) 992-0000 or contact us by clicking the button below.